Review Content Protection gives retailers a chance to engage and fix issues before a review is left on an external platform outside of ResellerRatings.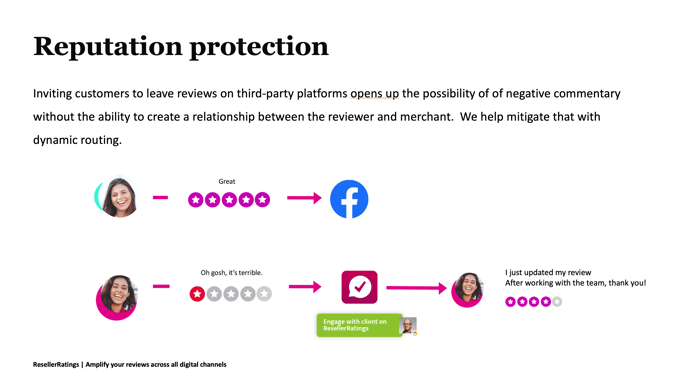 Reputation Protection aims to give retailers a chance to engage with reviews before having to deal with a negative review getting published to an external platform via our Amplify tool. It engages a special review template email that can be customized but routes customers to different platforms depending on the rating they choose.
A negative review (1-3) star will go directly to ResellerRatings so you can engage with the reviewer
A positive review will follow any review distribution you've already set

How to Use it
1. Go to Collect Trust > Reputation Management > Amplify > Review Distribution
2. Turn on the Review Enablement toggle option

3. Customize your review protection survey email
Review Protection ONLY works with POST CHECKOUT surveys. It does not work with Checkout Surveys that appear RIGHT after a purchase has been made. To turn on review protection for those - you can go to your Survey > settings page where you can customize your text response
The Reputation Protection Email
The reputation protection email is special as with this option on you will
override ANY custom email templates you have set for other platforms you may be distributing reviews to!
The reason for this is that the other custom templates for other third-party platforms simply prompts the shopper to 'write a review, as opposed to SELECTING a star rating, which is what the reputation Protection email does. That way, we know if it's a poor rating and to route it to ResellerRatings or to go ahead and push the customer to another platform.