Getting Started Invite customers to write a review across the web. Amplify your voice across multiple digital channels.
For years, ResellerRatings was all about ResellerRatings. The landscape has changed with multiple review vendors as well as audiences getting their information in different landscapes. We wanted to ensure our clients had a seat at that table. Amplify is a new feature from ResellerRatings that allows you to invite customers to write reviews on other platforms. We simply portion off a segment of your review invites to ResellerRatings, and send them off to other rating platforms that are open. It's an easy and effective way to ensure coverage where ever our customers begin.
Platforms Supported

Platforms supported are subject to change at any moment. Check the portal for the most current list. We notify third-party platforms by a few different segments.
Third-party review sites similar to ResellerRatings - yelp, BBB, Sitejabber

b2b Ratings and Reviews - g2crowd, capterra

Hotel Industry - Tripadvisor, Yellow pages

Major Publisher - Google / Bing

Social - Facebook, Influenster

Local - GoogleMyBusiness, YellowPages, etc
How to Get Started
First of all, make sure Amplify is part of your package, it's an Add-on. If it's not you can always contact a ResellerRatings rep to help you enable it. There are a couple of simple steps that help out.
Ensure your business has claimed its listing on whatever third-party social platform. This often helps the process of review invites and gives you a URL to send customers, to write a review.

Gather the write a review URL's for that particular page so you can paste it in our dashboard. Go here for a list of support URL formats.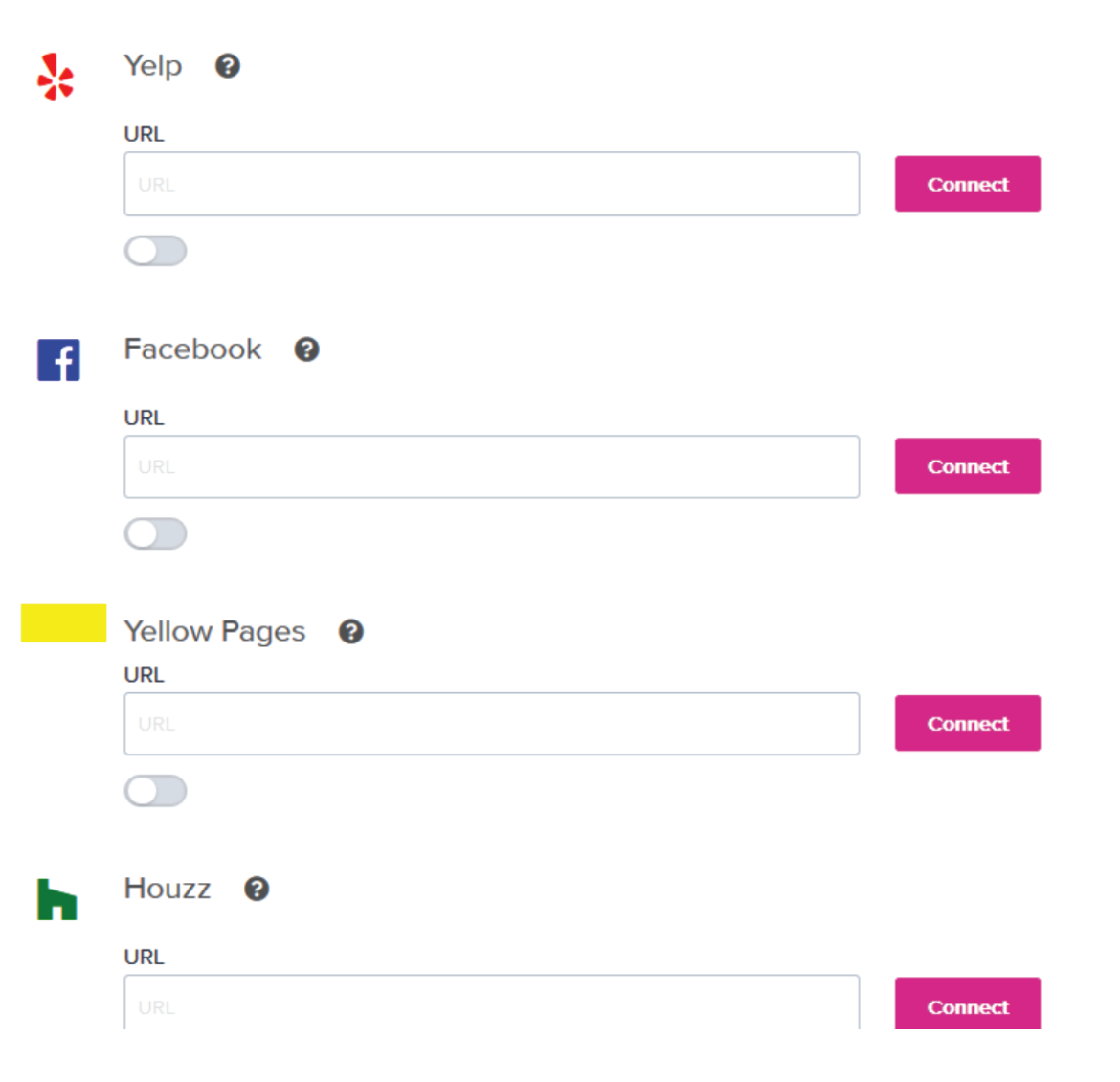 Simply enable the feed and set the distribution
Your invites will now be segmented across different platforms
Running a successful third-party review coverage plan
Many companies that run Ratings and review aggregation have a success rate (of getting a review written at 1-3%). ResellerRatings, with all its features, tops out at around a 12-15% conversion rate for many customers. However, creating content with third-party review platforms is often less successful than reviews on the native platform. Oftentimes, a reviewer will click through and drop off. Unlike writing a review on ResellerRatings, we do all sorts of things on the backend to ensure customers leave a review. We don't have control over what happens once a customer leaves to write a review on someone else's platform. However, we do provide two key things that most companies don't provide with a feature set like this.
The ability to understand the performance (reports)

The ability to customize invites to a particular platform (customization)
We believe all three of these puts together provide a compelling reason for a customer to leave a review elsewhere and ensure great collection coverage.
Other Links
Amplify - Getting Started
Amplify - Routing
Amplify - URL Formats Supported
Amplify - Email Customization
Amplify - Channel Intelligence - Reporting
Coupons Incentivization - How to Set up
Did this answer your question?