Tagging and Organizing Reviews Tagging reviews is an incredibly important part of managing your data.
How to Tag Reviews

Tagging reviews allows your team to understand what people are talking about, allows reviewers to filter and search by topic, and also helps your discern important issues off the bat.

Easily tag reviews by clicking the plus icon and start typing a tag you made in the Dashboard. In the example below, "Shipping" has already been tagged by the reviewer.All clients of ResellerRatings have a series of generic tag taxonomies that are shared.
Note: To add more tags, navigate to the Dashboard > Reports > Tag Reports > then Tag Manager. Under the standard tags listed, click Create a New Tag.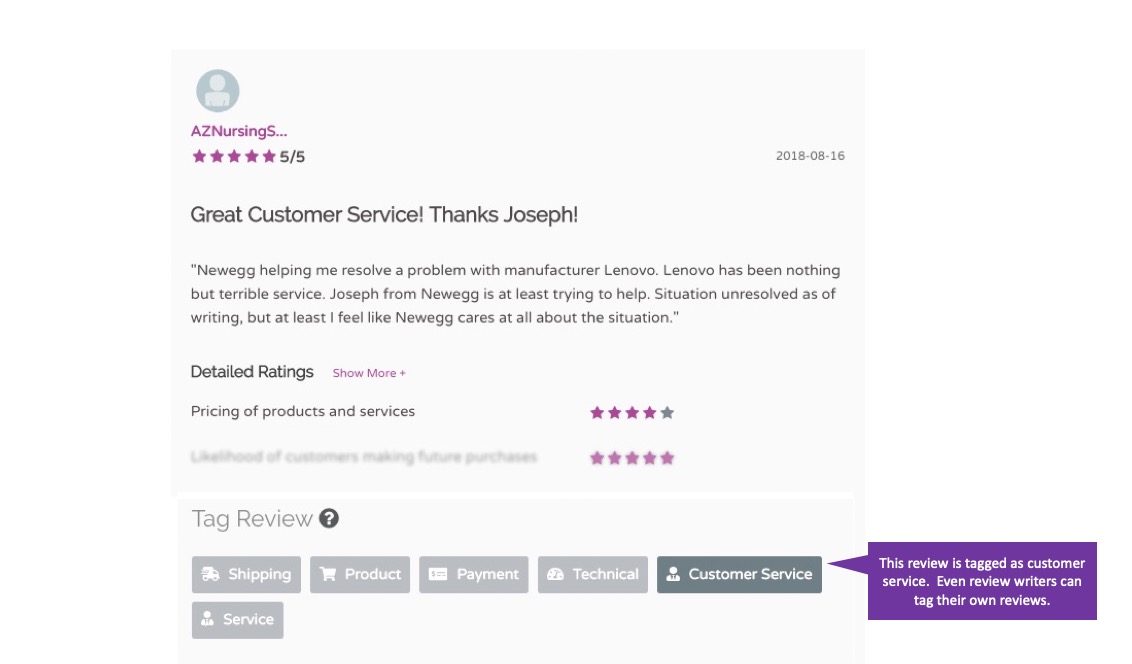 Great, now that my reviews are tagged - then what?
Once you've started tagging reviews (or even your customers have started tagging reviews), you can pull a variety of reports. For example, you can get information on what are the lowest rated topics for the week. What's the frequency of technical, negative issues you have. Alternatively, you can also start to send out reviews to the right people in your team to have them action on it.
For example, you can set an alert that sends notifications to the shipping manager for all negative reviews with a topic of shipping. Or even you can send alerts for all positive review about customer service to the customer service team.
Creating Custom Tags
Sometimes our prebuilt taxonomy does not work with your team. Instead, you may want to create tags custom to your business. This can easily be done in the reporting section. When you create a new tag, the tag will show up in the consumer care dashboard allowing your team to use that tag for past and future reviews.
Did this answer your question?