No developers yet? Start collecting still without any dev resources.
Kickstart your Product Review Collection
Did you know, you can reach back into your purchase history and invite customers to leave product reviews? We've developed a great product reviews accelerator system that sends out invites to past customers in order to boost your product collection rate.
You must have your product page feed snippet so we have product data captured
You can upload a csv to our Accelerator page that has your product data
The customer will get an email X days from purchase date specified, to be invited to write a review. If we do not have the product listing captured in our data feed, our invites will wait for that particular customer until we have the product data.
There are currently no limits on how many product reviews you can solicit a month.
Starting your Accelerator Collection
Navigate to your portal and choose Collection. You can select Product Review Accelerator here and create a 'job'.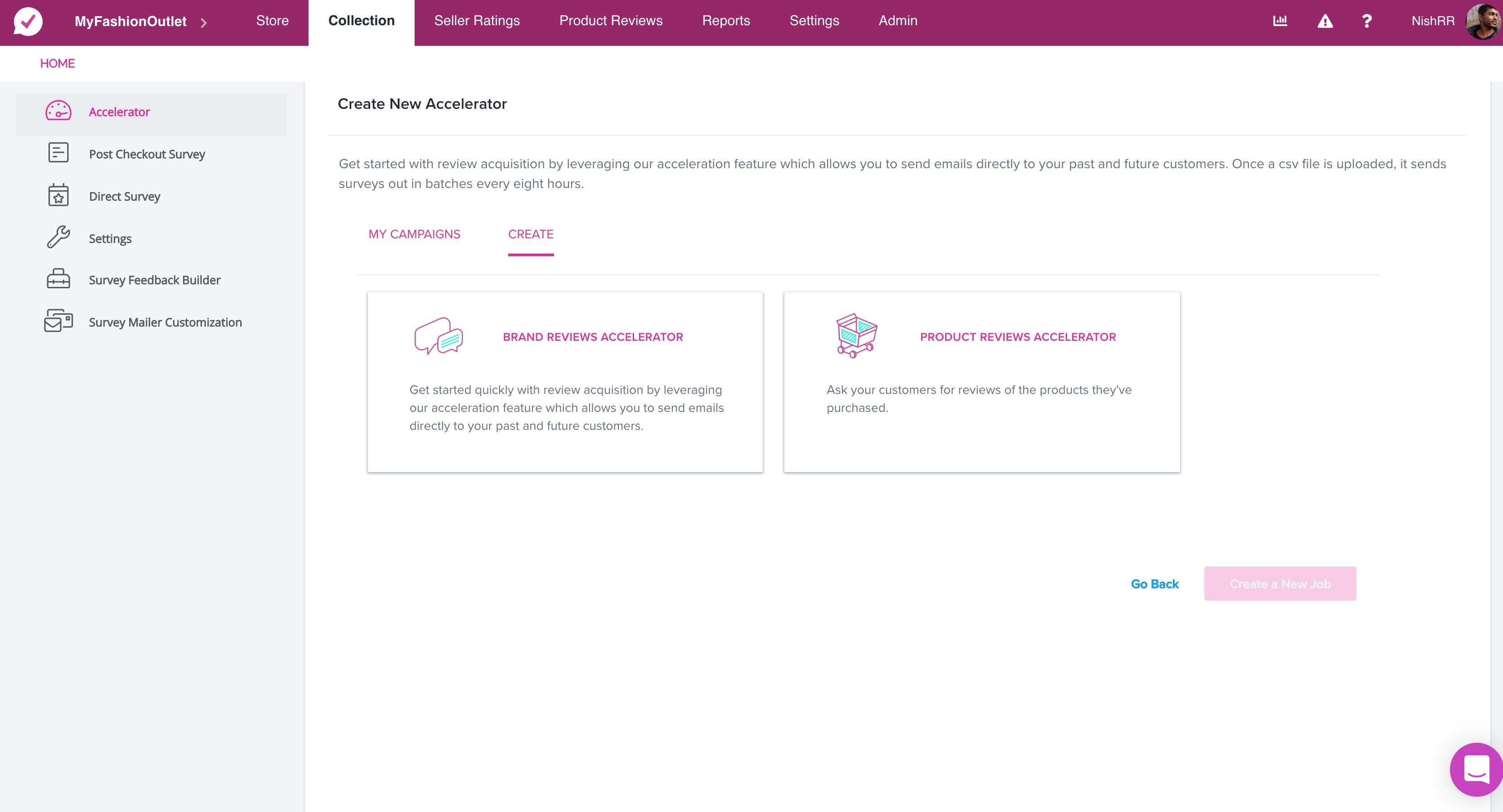 Format a CSV file to upload and upload it. Once a CSV file is uploaded, it sends surveys out in batches every eight hours. You cannot send an email to a customer more that once in a given time period.

Accelerator Rules
Duplicated emails will be ignored to prevent spam to your customers

5k max a month

Surveys sent out in 8 hour batches until queue is complete

Can be cancelled for one hour in which it is not cancelable after that
FORMATTING YOUR CSV UPLOAD

Please include a header row with EMAIL, INVOICE, DATE, and SKU mapping to the correct columns. You can order these columns however you want as long as there is a header. If there is no header column the default order of Email, Invoice, Date & Sku will have to be matched.
SKU should be a space separated list of your product SKUs you'd like reviews for if the particular buyer has multiple products in their cart.
E.g. samsungAX9200 samsungAX1000 ABC120X

This would invoke reviews for three items
Your uploaded feeds can be canceled within the first hour after uploading

MULTIPLE ITEM SUPPORT
From time to time a consumer may have 1 or more items in their cart and you may want to solicit reviews for all items in that cart. In your csv row entry you can specify multiple sku's.
Multiple SKU's associated with one email will send only one email out to the client with the first SKU item featured in the mailer. This in turn will capture the rest of the reviews on the ResellerRatings site when clients click a star rating on the Product Review Survey.
Cancelling an Accelerator Upload
On your dashboard, once you upload a CSV to Accelerator, you have approximately one hour to CANCEL. Otherwise it is committed to the database and will be sent out. Common problems include merchants who have included customers in their list that do not want to be mailed, or compiling an incorrect list. Please double check your list.
Once you click cancel, those records in the list will be removed and the survey send out procedure will be aborted.
Did this answer your question?