A Primer on Google Seller Ratings
Launched over six years ago, seller ratings continue to be a dominant market force in enticing click-through from an increasingly fractured omni-channel customer experience. Not only do seller ratings help searchers discover quality businesses, they also help advertisers improve Ad Rank, increase click-through rates (CTR), and lower Cost Per Click (CPC).
We've been looking at a series of search trends and want to help you understand how GSR can affect your bottom line.
GSR in ads
In 2019, Google Seller Ratings got a few important updates. Google has officially lowered the threshold from 150 to 100 reviews and is calculating ratings on a per country basis vs. globally.
With only 100 verified reviews, businesses can see their stars in their Google Ads. This lower threshold is already helping retailers better compete and win.
The reviews from users in each country will only contribute to a merchant's rating for that country. This provides a more accurate representation of the quality of a merchant's service to a specific country. To get GSR in different countries, you have to receive reviews from customers in those countries. Gone are the days of reviews being syndicated all over the world. Now, your ads are driven by the customer experience relative to their country.
Fortunately, ResellerRatings makes location based survey collection easy. Wherever your customers are located, ResellerRatings automatically associates customers to their location with their IP address. This identifies the customer's location without the customer having to provide extra information.
ResellerRatings covers the United States, France, Germany, and the UK. For other locations, Google offers a free basic collection service.
See the full list of countries here - https://support.google.com/merchants/answer/190657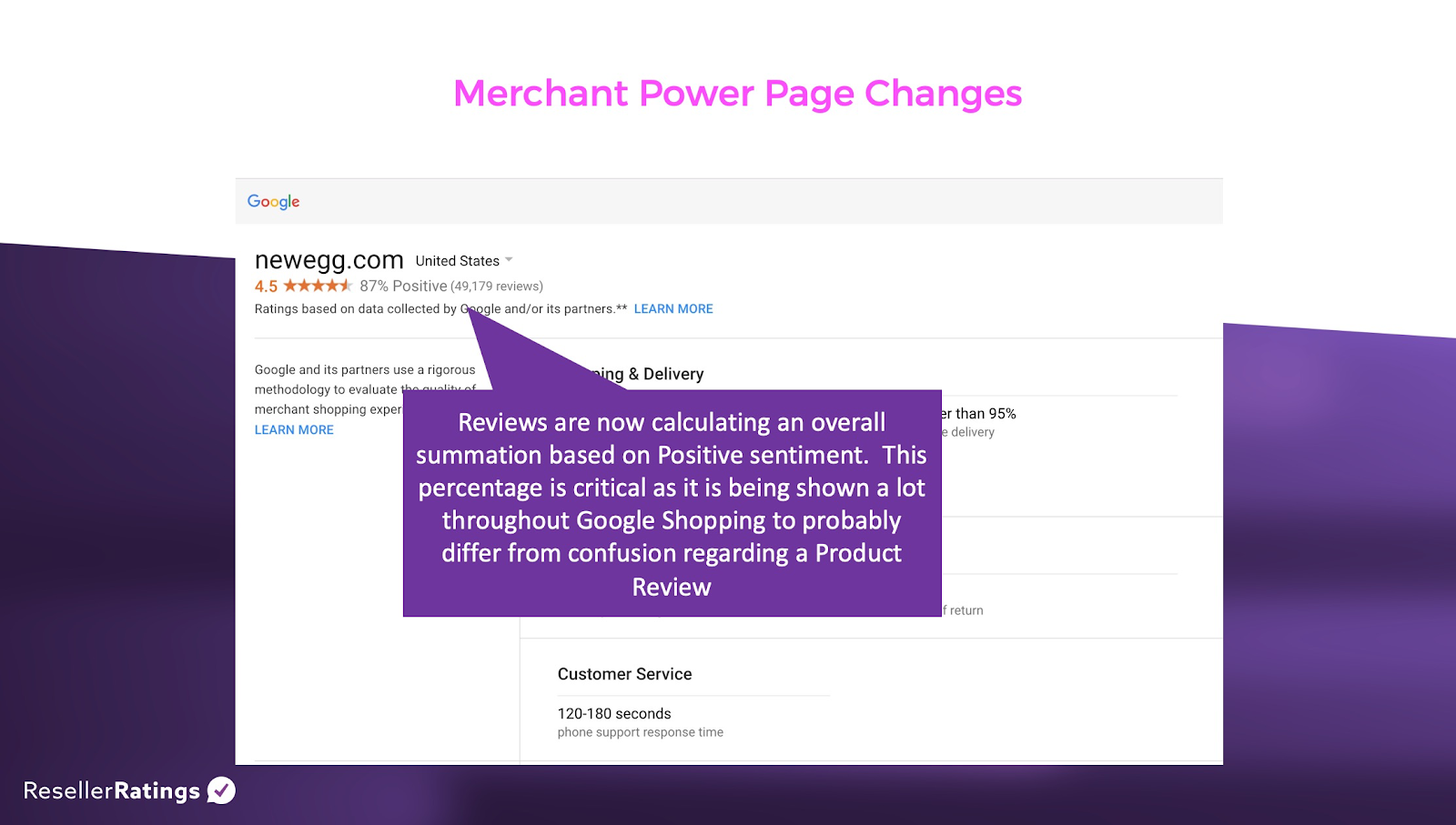 Let's look at the example of insurance companies, specifically Progressive insurance that has collected thousands of reviews with ResellerRatings. Progressive doesn't only stand out for typical search terms for the words 'Progressive Insurance'.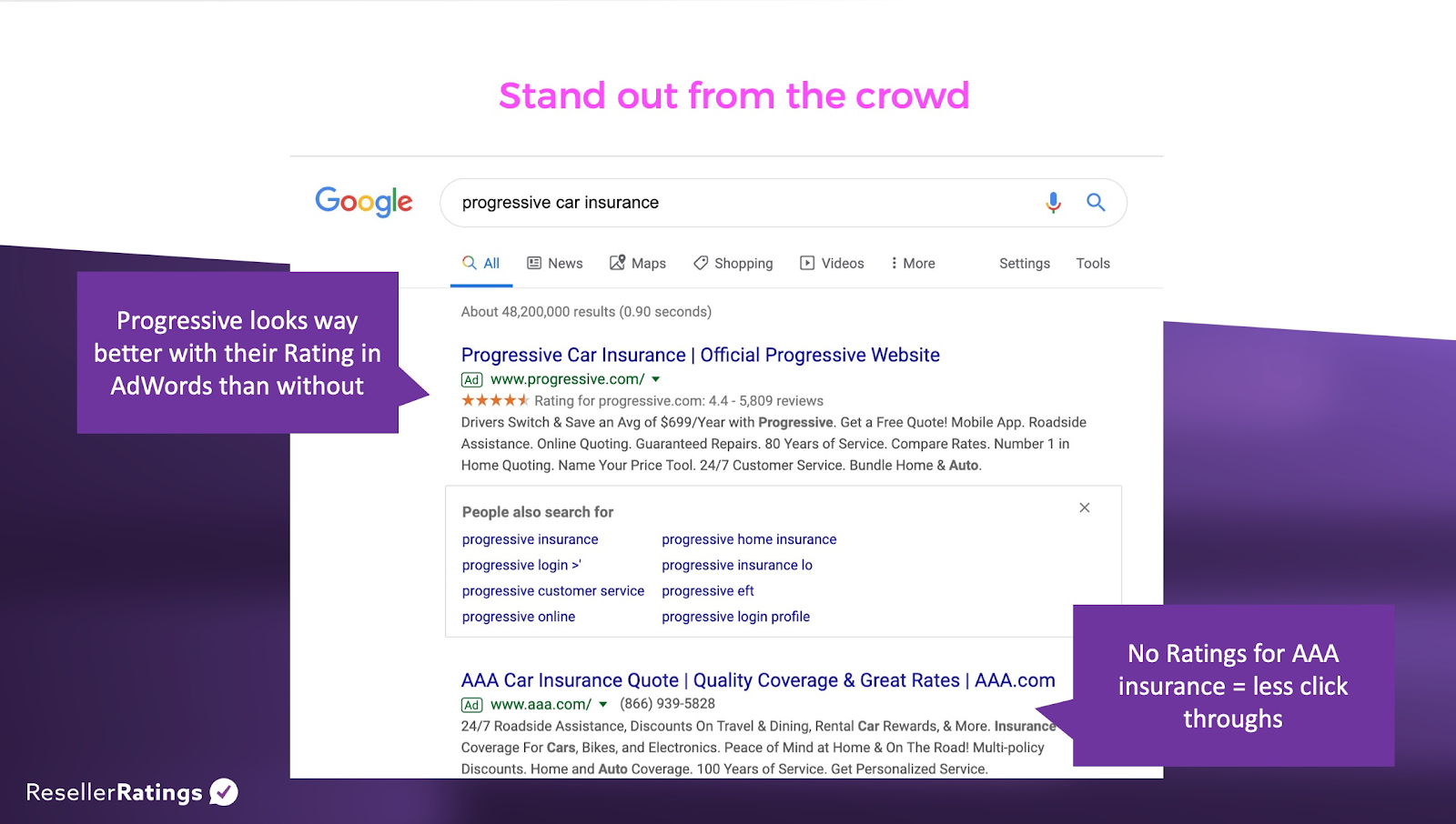 They also stand out for a much larger base of search terms with much more impact such as 'car insurance' (see image below). Note that both search terms capture different points in the customer intention and where they are in the buying process. By collecting Ratings and Reviews with ResellerRatings, progressive constantly shows up early on in the customer journey and displays an edge over their competitors.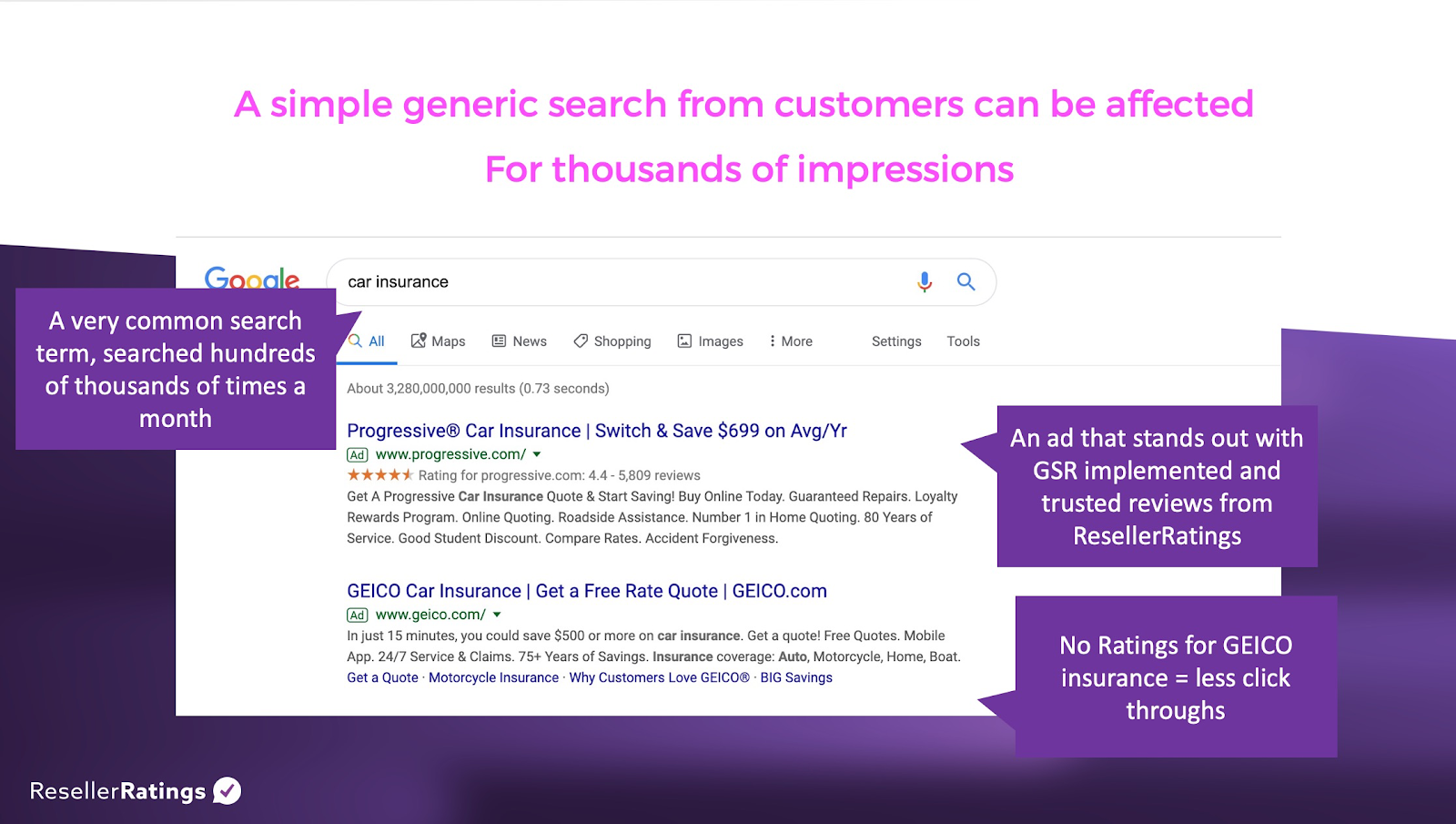 How are Google Seller Ratings affecting my Ad Rank?
First of all, when you buy ads or budget ads into your marketing plan and outbound sales process, remember one thing - Google, above all wants customers to have a GREAT experience once they click on your ad.
Your Ad Rank is a special value that Google computes that determines your Ad Position. It's based on a lot of factors such as
The bid amount

Ad Quality (including clickthrough rate, relevance for keywords, landing page experience)

Search context for the customer

The expected impact of EXTENSIONS and other ad formats
This means, with Seller Ratings (increasing clickthrough rates and being a key extension of trust quality), you can
Outrank placement against competitors that are spending MUCH more than you on their Ads
Remember Ad Rank is being constantly calculated so
Collect reviews often and frequently
And you can do that with the right set of collection tools from ResellerRatings that allow brand integration, custom questions, and launch controls and are compatible with all inboxes, and mobile forms. Our review ingestion process even makes it extra easy for customers so sometimes, they don't even have to sign in and create an account if we know they are a verified customers.