How are reviews removed on the site and under what conditions?
Deleting or Editing Reviews Some notes about reviews. ResellerRatings Team
As with all data collected on ResellerRatings, whether it be
a user review for seller ratings

a user review for product ratings

an image

or a video review

profile information
It can be deleted or edited.
Who has control to delete or edit reviews
As reviews come into ResellerRatings they go through a 48 business hour holding period for moderation if they are from a retailer who uses our program and services. Otherwise, they are published instantly. This gives a retailer time to engage with you if needed.
All the user-generated content on the site is owned by the person who wrote or created it. That means, they can edit, or delete any of that content at any time.
Reported Reviews
If your review is reported by someone, we check to see how it matches against our guidelines and terms. Our Content Integrity Team does not edit or modify reviews, and can only remove them or ask you for more information!
Reviews that have been flagged get a case number and is sent to the person who flagged the review.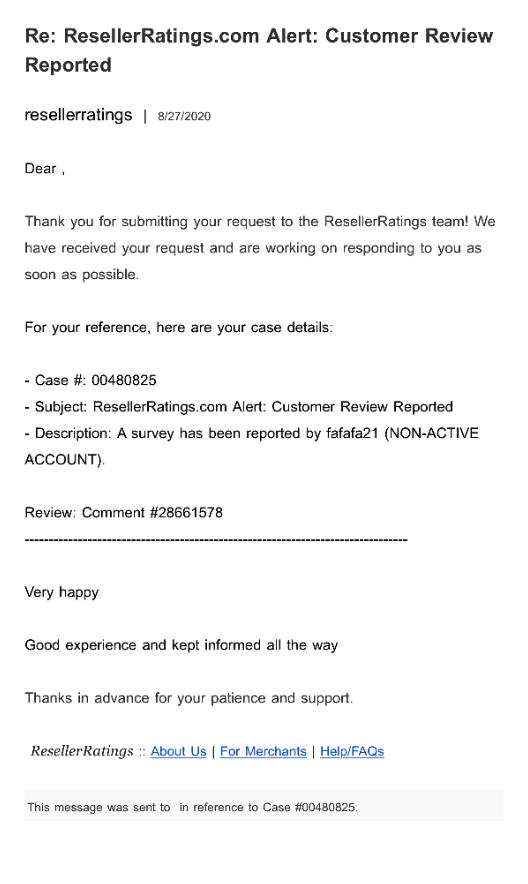 The review is still live while being moderated

support responds to that email to ask what TOS the review violates, if they respond with a valid violation it gets removed.

then it gets marked as disabled in the admin if it does indeed violate the guideline by our Content Integrity Teams standard
Did this answer your question?