Coupons for CX Feedback and UGC collection
Product Reviews | Feedback | Q&A
Why Coupons?
Setting up coupons can power your product and feedback survey acquisition rates by up to 35%. It also completes the customer loyalty cycle by driving more purchases back to your storefront AND can increase review quality substantially.
Setting up coupons is really easy. All you have to do is:
Set up unique coupons or create a generic coupon

Set up a campaign on our portal and start it up (we do the rest!)
Our system will take in your coupons, distribute messaging, and tease coupons appropriately throughout ResellerRatings.com and your review acquisition cycle. We then deliver the coupon post-survey (product review/feedback) acquisition.
Update - as of August 2020, ResellerRatings will be deprecating incentivizing seller rating reviews with coupons as per new rules enacted by our syndication partner Google. However, coupons can still be used for Product Review incentivization and CX feedback!
How your customers get their coupons
Coupons are received by your shoppers via either EMAIL or the WRITE A REVIEW PAGES on resellerratings.com when a review is completed. Coupons apply for the following products -
Seller Ratings (no longer available as of Aug 2020)

Product Reviews

Product Review write-a-review page (on-site)

Feedback and CX experience survey tools

Q&A for answering a question

Types of Coupons you can send out!
There are two key types of coupons you should think about when leveraging our system.
Generic Codes - for example, 'DISCOUNT20', 'FREEJACKET10', etc are examples of generic codes that can be used between many different people. These codes can be consistently applied to your system to be used.

Unique Codes - These codes are generally a one-time use code, that can be traced to a singular purchase on your side. Since you delivered the list of codes, we can report back on which codes have actually been used for a particular campaign. This allows you to tie your review acquisition rates to purchases. These codes can also do different things, for example - you can distribute a whole slew of random codes that reward customers anywhere from 10% to 25% discounts. They all don't have to be the same, so have fun with it.
Set up
CSV File Formatting (Unique codes only)
If the case of unique codes - you will have to provide us with a set of codes that are active on your storage system. Providing a code is as simple as providing a CSV file to upload with the Coupon Name and the Landing Page URL. We otherwise default to the generic landing page URL if alternatives are not provided in the CSV.
Creating a Campaign
Go into Collect Trust > Loyalty

From here - you can simply create a campaign and follow the simple editor.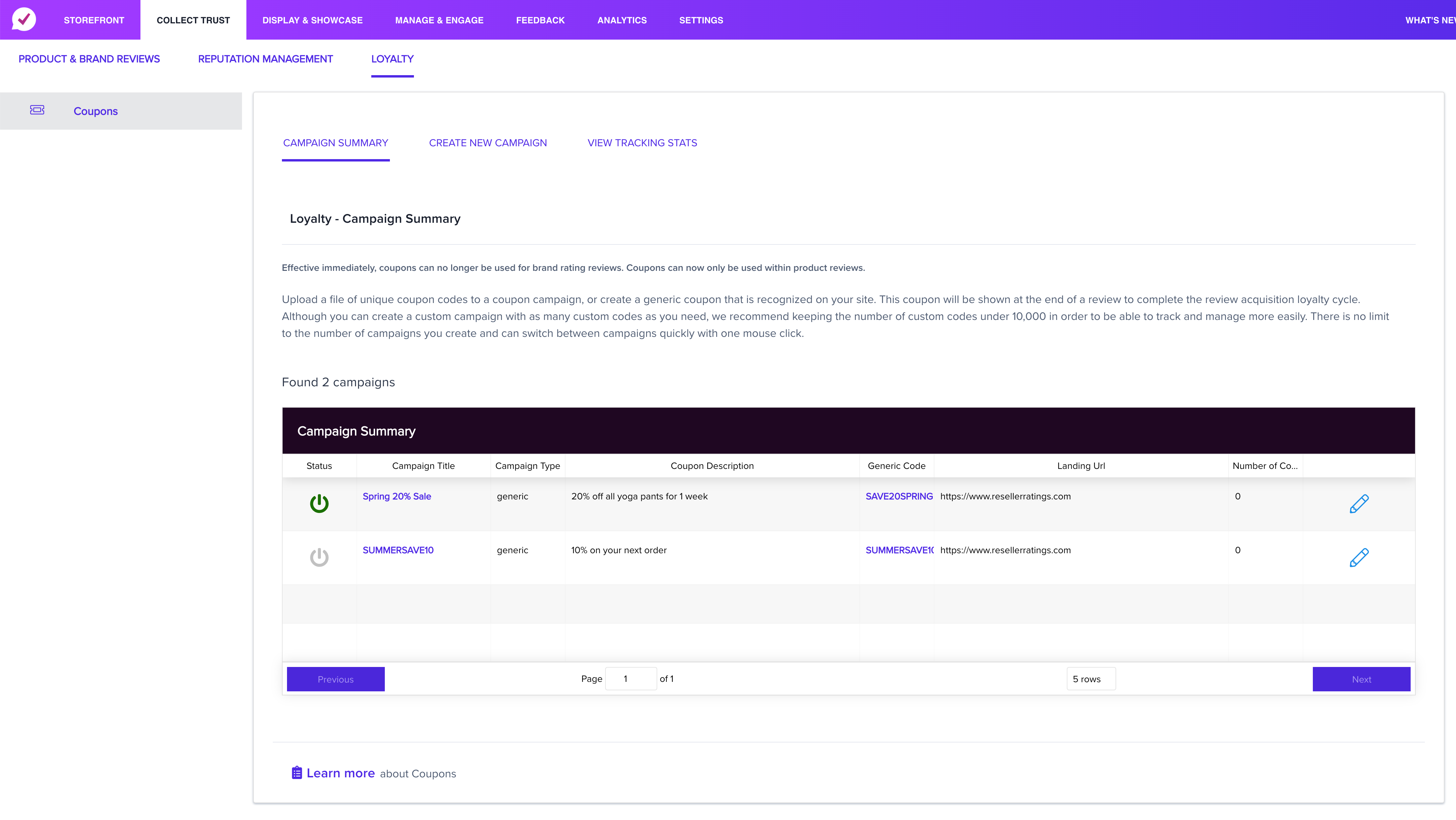 Key things you will need include
Unique Coupon List or Generic Coupon

Descriptor to show in public messaging

Link to Coupon Landing Page or Offer page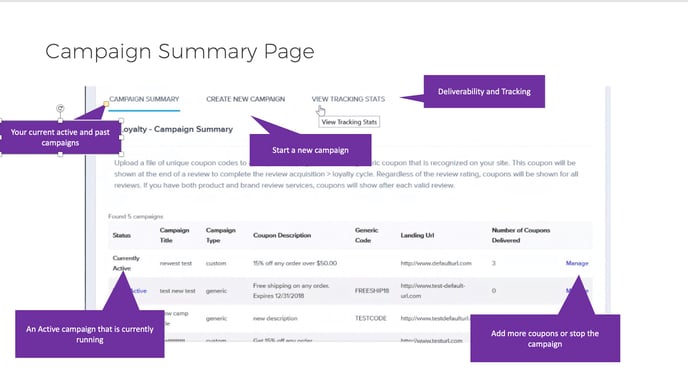 Re-Upping a Campaign

If you have a UNIQUE code campaign you want to continue - you can re-up the campaign by simply adding more coupons and importing a new CSV file. Duplicate codes will not be ingested and will be ignored.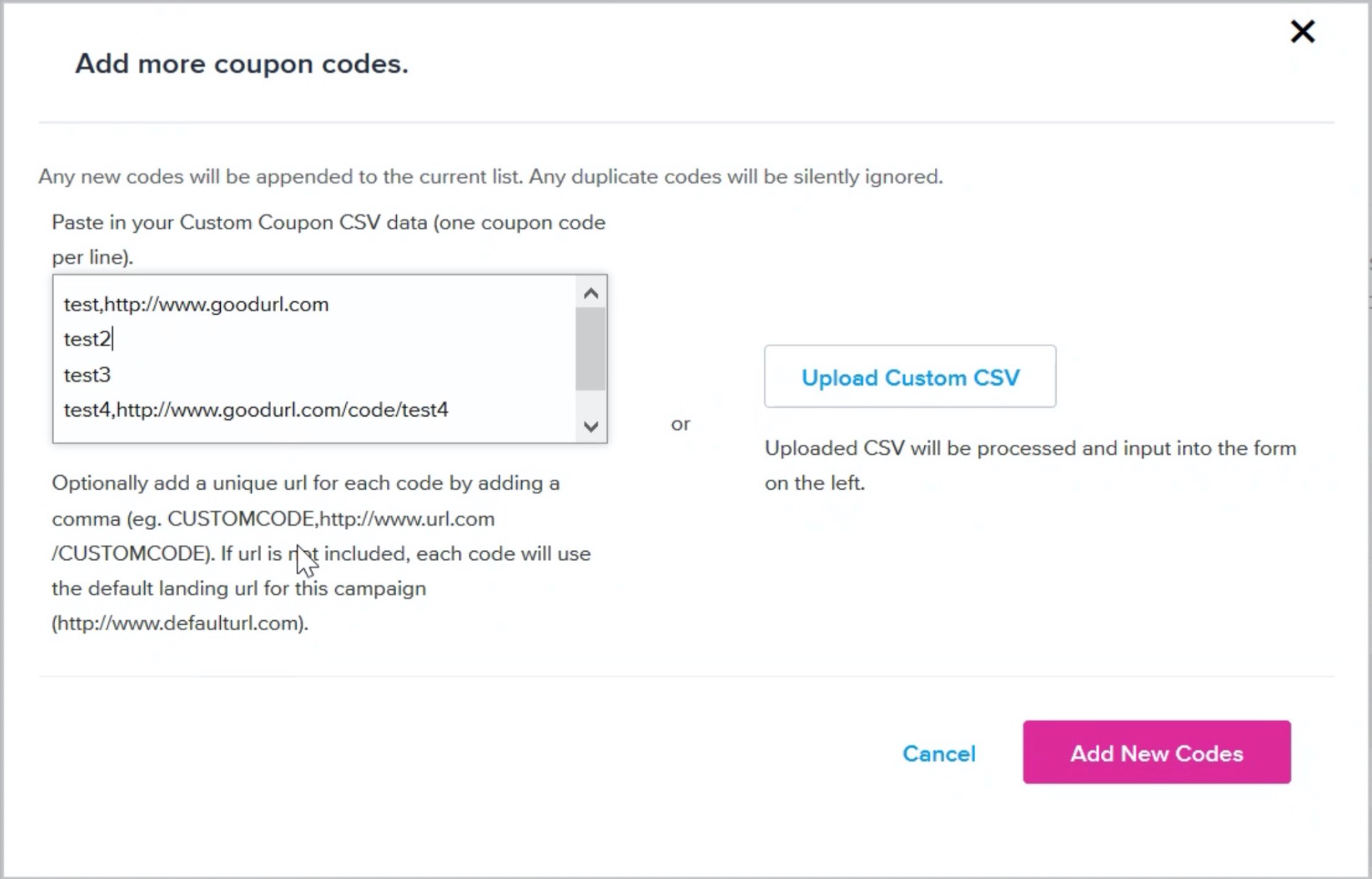 Checking the coupon stats
You can easily check out the performance of a particular code by going into the tracking option of the Loyalty page. You'll learn about various tracking metrics by selecting a campaign you have created including
Number of successfully served coupons
The average number of coupons delivered / per day
The last time a coupon was delivered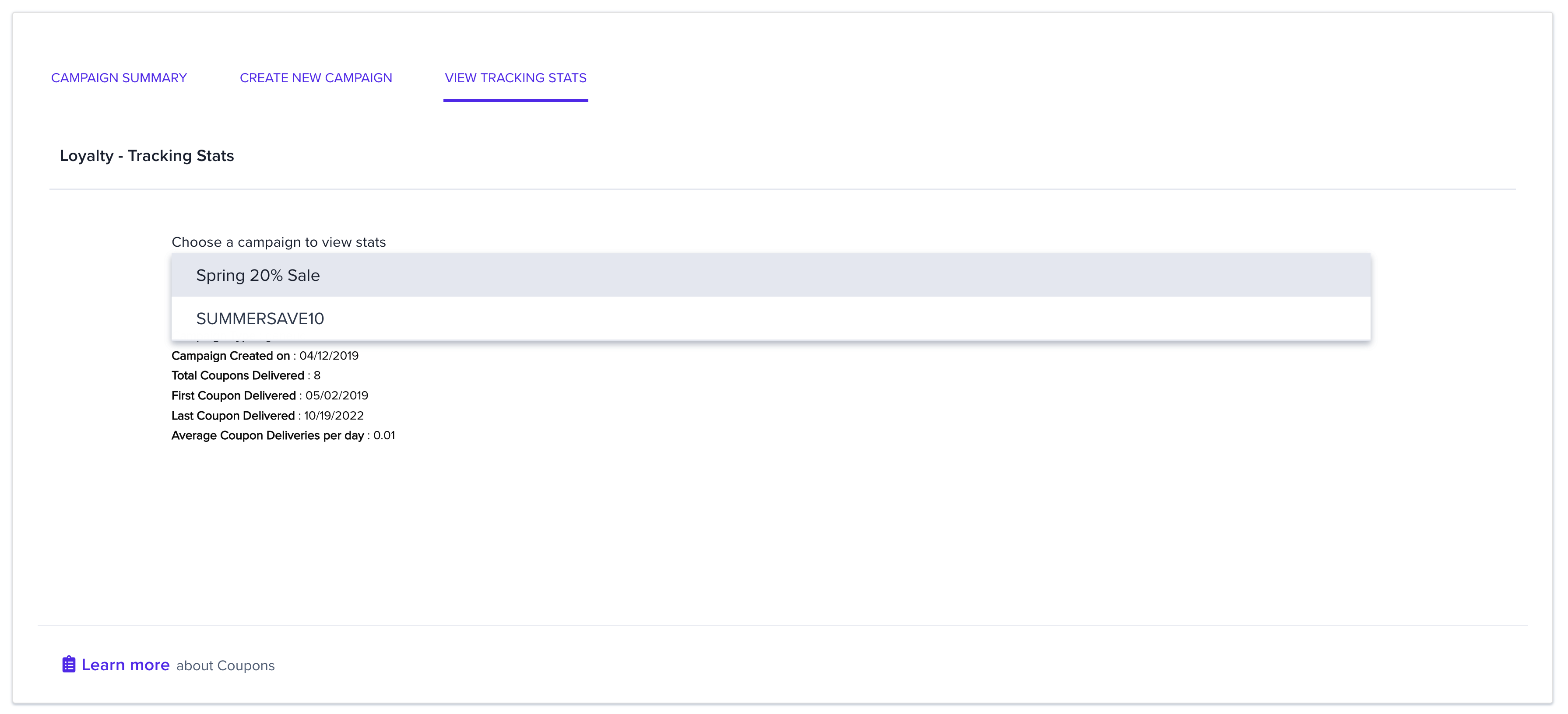 Shopper Experience
The Shopper experience for coupons is pretty unique!

Product Review Coupon Deliverability experience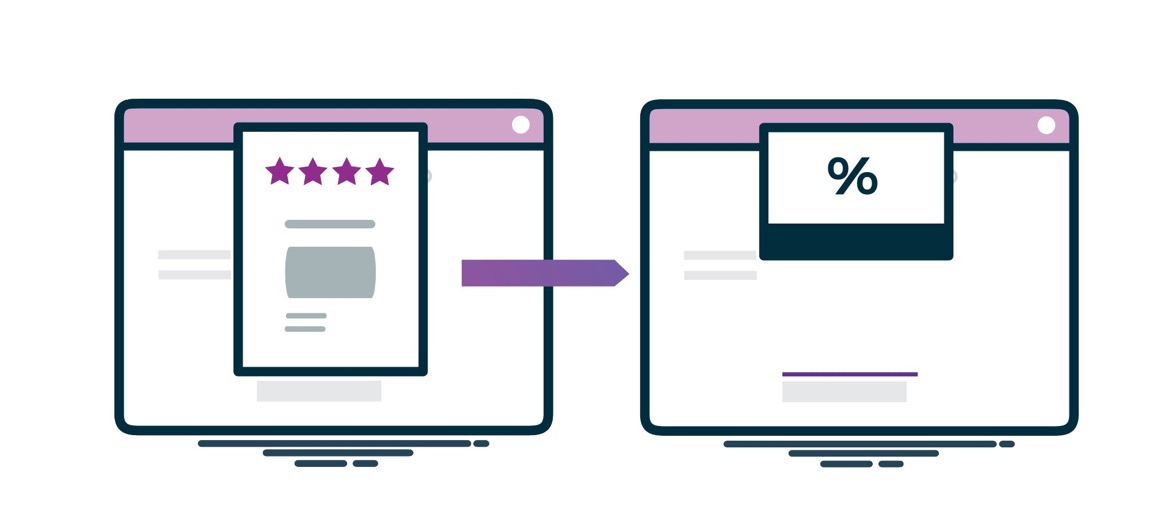 ResellerRatings.com on site Product survey experience

Rules regarding coupons and best practices
Coupons and incentives must only be used for Product Reviews / Feedback

Coupon campaign description field messaging:
Messaging around coupon descriptors should be short and to the point. Good examples include '10% off of any shoes this season', or 'Discounted Shipping at 10%'.

Examples of poorly formatted descriptors include - 'If you use this coupon you will get a free 10% code to take off from our new Jacket line'.
Do not ever incentives only good ratings for reviews in any messaging. This is considered a serious violation term for usage of ResellerRatings coupons and any incentive that promises rewards for only good reviews will be removed from our system. A coupon usage ban will be placed on the client.

Make coupons easy to process and do not distribute coupons that do not work. Reports from customers will come back to us.
Did this answer your question?