Anonymous Reviews Protect customer privacy while powering their voice
Anonymous surveys can be a great way to generate reviews for your brand while making customers feel more comfortable sharing their experiences. You may want to use anonymous surveys in case you are worried about privacy, in the healthcare, insurance, and government industries where data privacy is paramount.
When to use it
As a merchant member, the choice to allow anonymous surveys is up to you. Anonymous reviews work well in conjunction with our surveys allowing you to solicit reviews and not violate privacy policies by providing ResellerRatings with customer email addresses.
Anonymous reviews have some very strong benefits. It allows you to pull in survey data very quickly without the user having barriers to entering a review (such as login validation). Conversely, all anonymous reviews will lock out some reputation management features such as contacting the reviewer in any capacity. Reviewers are given a chance to 'claim' a review after leaving it if they change their mind and want to lose out on merchant contact and management features for their issues.
Advantages
Streamlined review author experience (no login required)

Protection of review author privacy

Can still show as a verified review if sourced directly from your survey tools

You can still post public replies that are consumer-facing

Can still flag for certain flags violations to remove content
Anonymous Review Capture
Enabling Anonymous Review Collection in your Portal
To turn on anonymous reviews go to your merchant portal > tools > anonymous reviews.You can then select the 'ON' state. Anonymous reviews default to 'off' for all merchant members.
Regular Review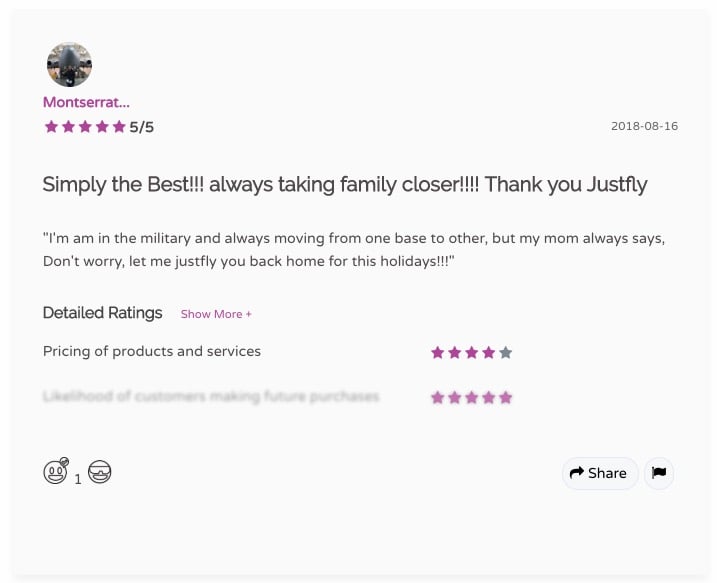 Anonymous Review - no image, no name. Can be a verified review if sourced directly from your survey.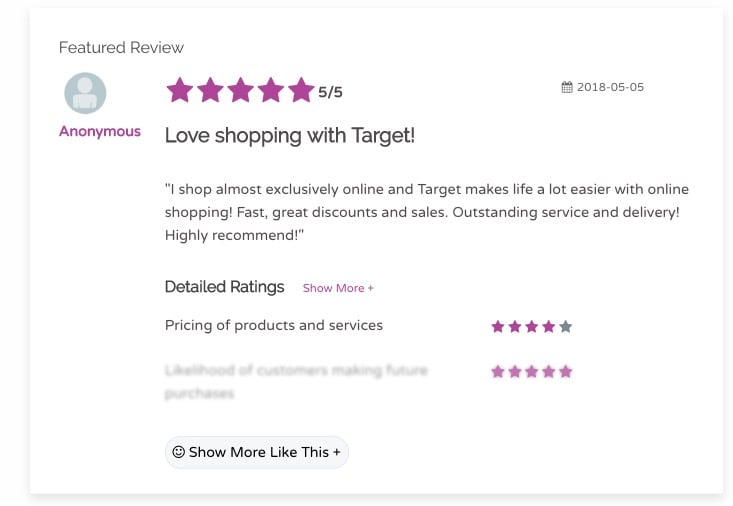 ! You can either turn on anonymous reviews or not. If you turn on anonymous review, you cannot remove them later unless reviews have been flagged for violating our review guidelines. If you turn off anonymous reviews, user data will be captured.
How it works
When you turn on anonymous reviews all review sections of the site are augmented to contain the link 'Leave this review anonymously'.Even if your reviews are sourced anonymously, the user themselves do not create a user profile or email address.This removes a lot of barrier to entries for users concerned about privacy, when leaving a review.
Claiming a review, post anonymous submission
When an anonymous review is left, it is automatically placed within the 48 hour holding period for review.This gives you a chance to publicly reply to the review.We review authors a final chance to 'claim' a review immediately post submission.
Flagging Anonymous Reviews and Restrictions
If you flag anonymous reviews to be removed, you can only do so under a restricted guideline set unlike reviews with user email addresses. Those include the following...
(1) it is presented with a valid court order from a court of competent jurisdiction ordering the removal of the posting
(2) it is presented with a valid court order from a court of competent jurisdiction finding that the posting is slanderous, libelous, defamatory or otherwise illegal
(4) The posting contains vulgar, profane, or obscene language
(5) The posting contains adult material, including but not limited to, graphic images, written images, or links thereto
(6)The posting is not the type of posting for which the website is intended, namely rating companies that provide products or services;
(7)The posting contains the last name of any individual (first names are allowed), or any other personally identifiable information, which is defined as information that can be used to uniquely identify, contact, or locate a single person or can be used with other sources to uniquely identify a single individual ("PII")
(11) The posting contains written communications between any parties
(12) The posting contains references, such as names or domain names, to any other retailers besides the retailer that is the subject of the posting
(15)The star rating obviously does not match the user provided comments, e.g. a positive user comment accompanied by a negative star rating.
Fraud Detection
Protecting your review content so they are real reviews is important to us. ResellerRatings has a history of bringing in deep, true to form content. With the release of Anonymous reviews, we bring in protection of user privacy, but also limitations on qualitative fraud analysis.
Our fraud analysis system is both automated and manual and works with many data points to determine the validity of a review. With anonymous reviews both you as a merchant and us as platform providers forego the ability to accurately identify a review by email. We however still maintain strong standards to detect fraudulent anonymous reviews and allow you as a merchant to flag them.
Did this answer your question?