A Google Shopping Primer Google Shopping and your Reviews ResellerRatings Team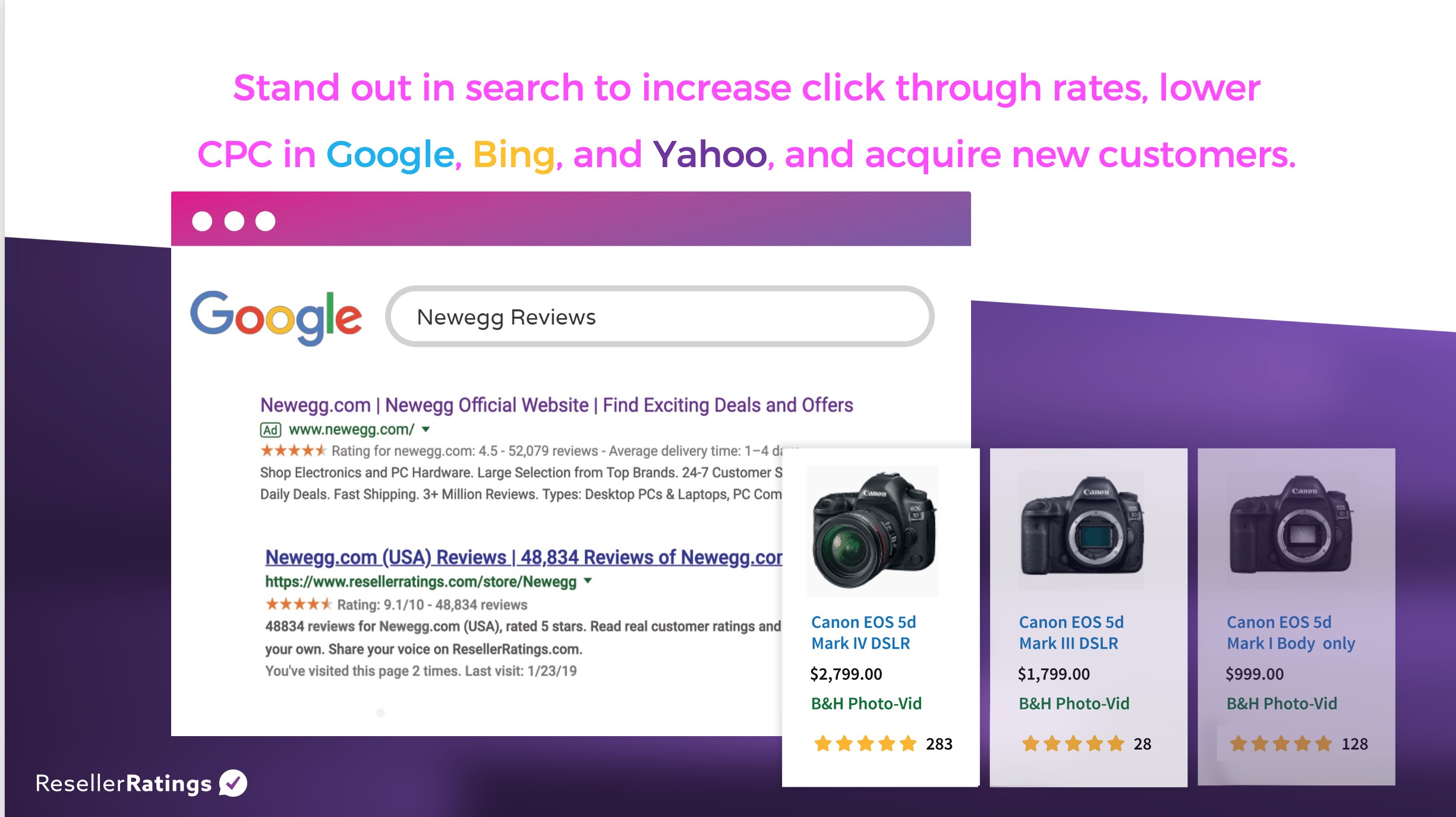 Get Started
Your customers have a story to tell the world when they buy your products. Product Reviews for ResellerRatings allows you to collect, display, syndicate, and analyze Product Reviews. Our robust system allows you to do some pretty amazing things when collecting data on your products, including custom questions and more. Say goodbye to the pains of feed management and product catalog management with ResellerRatings.
Showing up where your shoppers begin their journey is critical to your retail outlets success. Your trusted content can get displayed across Google Shopping to increase your sales.
What are google Seller Ratings?
It's pretty simple. Google Seller Ratings are ad extensions within Google-specific search results or channels, that showcase trusted content. This content augments and blings out your ads, so that customers click on them. There is a caveat though. You have to have trusted signal data driving that content. So if you want star ratings to appear on your product listing ads or seller ratings pages - you're going to have to collect legitimate product review content.
Customer reviews let shoppers know you have an amazing store, with amazing policies and customer service.
What sort of conversion effects can I see by deploying Star Ratings Ad Extensions?
Google itself states the core benefits around this.
Lowered Cost-Per-Click

Improved traffic quality on your site

More ad visibility with visual augmentations like Star Ratings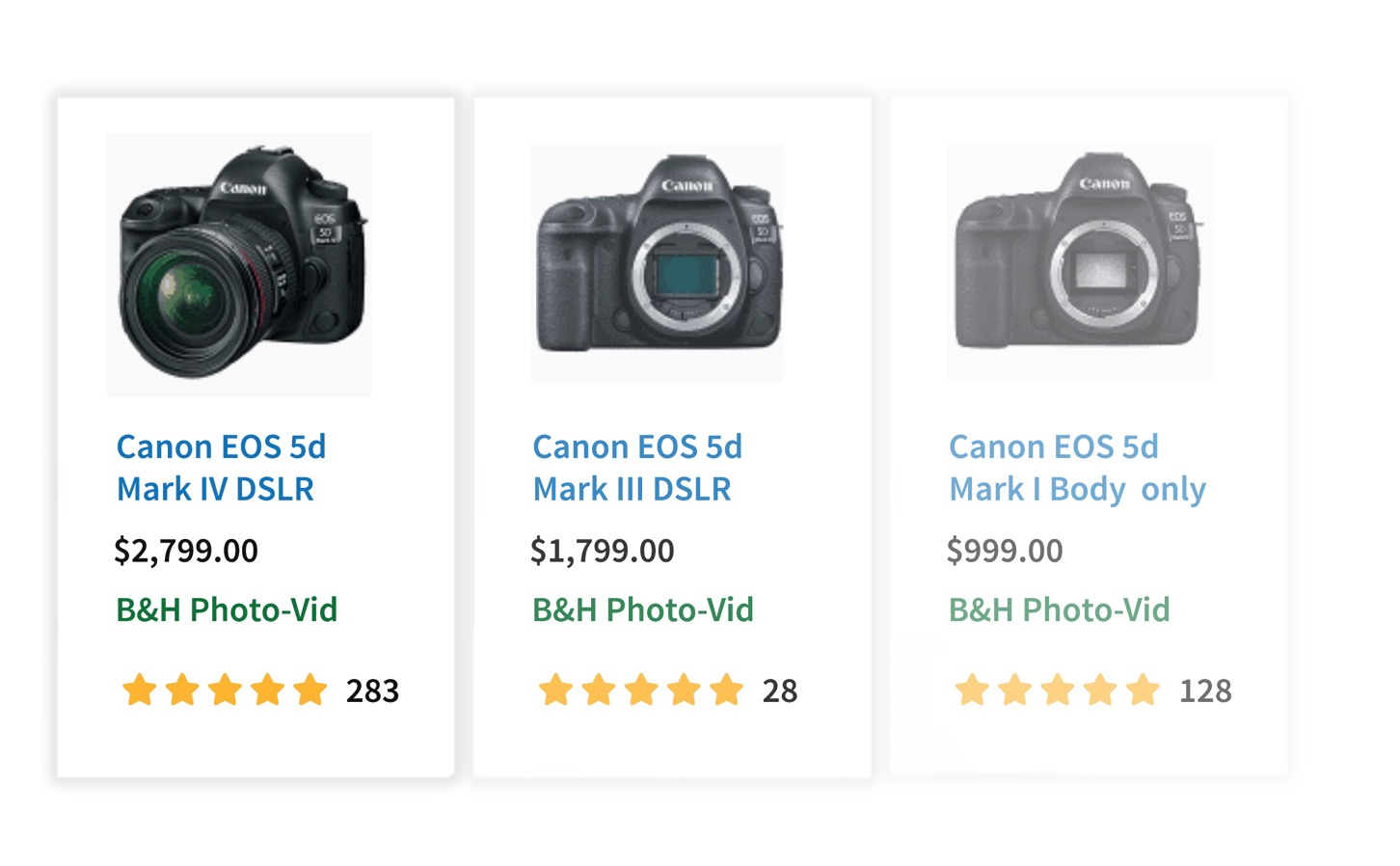 Get every SKU advertising for you
Each GTIN or SKU goes out into the search engine world and works on behalf of the client to fight for space in Search Channels. We arm these guys with verified, quality seller rating data so that they can all achieve Adwords extensions.
We're also one of Google's official recommended seller ratings providers and have been for years!
Minimum Requirements and other things you should know
It's easy to gain collective uplift in product search ratings and reviews when you participate in Google's Product Review Program. However, there are requirements every vendor has to meet with their collection of Products and reviews. It's pretty simple.
Your business must have at least 100 verified site reviews from the past 12 months and a composite rating of at least 3.5 stars. These reviews are segmented per country. So you will need 100 in the US, or 100 in Germany at a minimum to get into each country.

If you have a Google Merchant Account your Seller Ratings will appear in Google Shopping

The reviews must be within a 12-month period

Reviews must be collected from your store (you cannot use syndicated reviews from other sources)
These rules ensure reviews are current, represent reviews across a catalogue and are specific to the COUNTRY in which the reviewer is from.
Luckily with our solution, you can easily get all these.
Countries Google Seller Ratings work in
Google Seller Ratings is only available in the countries listed here.

This means your review's have to come from customers who buy your product from those countries. This allows Google to showcase reviews to customers searching from those specific countries. Our technology allows you to capture this data.
Don't worry if you have a poorly rated product
Google has you covered in case some products are rated poorly.
Google wants to ensure that reviews can help customers and vendors make sales. If a product does not have a 3.5 average rating or higher - Google won't show the review content on their channels. This prevents 1-2 or even 3-star ratings from showing up. However, if you have 3.5-5 star ratings for your products, the snippets will appear. Ensuring these products are 'highlighted' against poorer products and competitors.
What channels can my Ad Extensions affect?

Glad you asked! The benefits of collecting unique ratings and reviews for your products is spread across a multitude of search channels and Google Products.
Google Shopping Search Results

Google Shopping Product Page Listings

Product Seller ratings appear on PPC ads when you run AdWords campaigns which in return get you more clicks
Did this answer your question?